SILICAFUME-TECHNICALDATASHEET
SILICA FUME is a very fine pozzolanic material,composed of amorphous silica produced by electric arc furnaces as a byproducto f the production of elemental silicon or ferrosilicon alloys.
SILICA FUME can be used in a variety of cementitious products such as concrete, grouts ,mortors,fibercement products, plus refractory and ceramics, elastomer and polymer applications.
SILICA FUME is produced in conformance with the ASTM C 1240 specifications.The quality is controlled and monitored throughout the entire production process to ensure that it meets or exceeds specification requirements.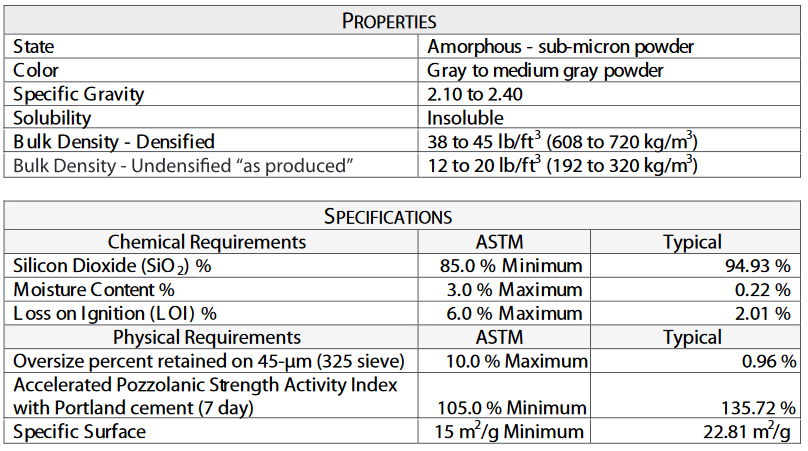 MECHANISM OF SILICA FUME'S
POZZOLANIC REACTION IN A CEMENTITOUS SYSTEM
SILICA FUME in contact with water goes into solution within an hour.The silica in solution forms an amorphous silica-rich,Ca-poor,gel on the surface of the silica fume particles and agglomerates. After time the silica-rich,Ca-poor,coating dissolves and the agglomerates of  silica fume react with free lime (CaOH2) to form calcium silicate hydrates (CSH). This reaction is called the pozzolanic reaction.

STORAGE
SILICA FUME should be kept dry, out of weather and the elements.
SAFETY AND HANDLING PRECAUTIONS
SILICA FUME is generally considered a nuisance dust.Use and handling of silica fume does not represent  a health risk when normal safety rules are observed. Direct contact may cause irritation of eyes. Prolonged contact may cause skin irritation. Inhalation may cause respiratory irritation resulting in coughing and shortness of breath.Th is product may be harmful if swallowed. Do not get in eyes and avoid prolonged skin contact .Do not take internally. Wash thoroughly with water after handling. For more detail, see the MSDS.
WARRANTY STATEMENT
The information given here is based on best knowledge,and is believed it to be true and accurate.Advanced Cement Technologies assumes no responsibility for the use of these statements,recommendations or suggestions,nor are they intended as are commendation for any use,which would infringe any patent or copyright.